Hotel Info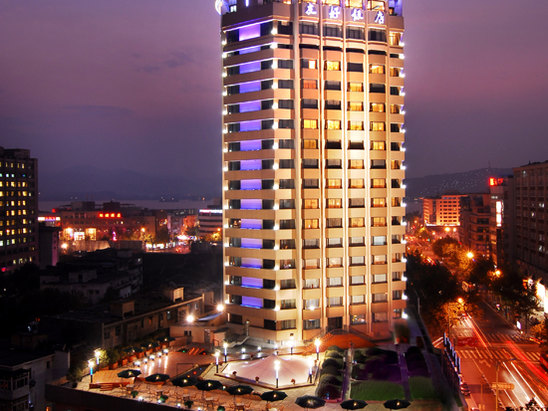 Friendship Hotel Hangzhou
has been working hard for more than 20 years, and has sublimated the well-known brand of Friendship in the inheritance of history and culture, and has won the honor of Hangzhou Top Ten Star Hotel for many years.
The hotel is strategically located on Pinghai Road in the bustling city center, next to Hubin Road Pedestrian Street, only 500 meters away from West Lake. The surrounding large shopping centers such as Hubin Famous Street, Nanshan Road Characteristic Cultural Street, Lakeside Intime 77, Gonglian Building are for you The ideal place for leisure shopping beside West Lake.
The hotel's main building is near the West Lake high-rise building, and the night lights are charming, which is a beautiful scenery by the West Lake. The hotel has all kinds of exquisite, elegant and comfortable rooms, with unique West Lake panoramic rooms, which can enjoy different West Lake scenery in a comfortable and private space. The hotel has a variety of restaurants in China, the West, Japan and Hong Kong, covering various consumption levels such as high, middle and low. It has been well received and recognized by guests. It has been selected as the TOP50 restaurant in Hangzhou. Known as the "Pearl on the Top", the West Lake Revolving Restaurant can be rotated 360 degrees to enjoy the panoramic view of the West Lake and the city view. Dining here is relaxing and enjoyable. The Huyue Kaiseki restaurant on the 18th floor is one of the few high-end Japanese restaurants in Hangzhou. You can enjoy the authentic cuisine of Hangzhou while enjoying the scenery of the lake. Youji Chinese Restaurant on the second floor offers high-end and exquisite Hangzhou dishes and creative dishes, while Pinghai 53 Tea Restaurant on the first floor offers exquisite Hong Kong-style dishes and dim sum, making people linger. In addition, there are three Japanese-style restaurants: the legendary ramen from Japan-Nakagawa Dora noodles, Chiba Okinawa cuisine advocating health, beauty, and longevity, and Japanese-style special noodle dishes that are as warm as mother's kitchens-Mikaya.
"Remember Jiangnan, the most reminiscent of the West Lake; enjoy the lake view, alone and friendly."
Friendship Hotel Hangzhou
, with its meticulous and personalized caring service, will make you feel warm and friendly, and enjoy a comfortable business travel life.